WIZZ AIR AND TAV CELEBRATED 12TH ANNIVERSARY OF THE AIRLINE
With a promotional flight in a brand new Airbus A321, Wizz Air, the largest low-cost airline in Central and Eastern Europe, today at Skopje Airport together with TAV Macedonia simbolocally celebrated the 12th anniversary of its first flight.
Wizz Air's CEO Jozef Varadi and aircraft's crew were welcomed at ,,Alexander the Great'' by TAV Macedonia General Manager Zoran Krstevski and the whole airport's management team, while aircraft traditionally saluted with a water bridge.
József Váradi, the Chief Executive Officer of Wizz Air said: "Over the last twelve years, Wizz Air has revolutionized air travel across Central and Eastern Europe. We currently connect 39 countries, with destinations stretching from Europe to the Middle East. Last year, we launched our refreshed brand and took delivery of our first Airbus A321 aircraft, the most efficient single-aisle aircraft in the world and with our ongoing deliveries, our fleet remains one of the youngest in Europe. Our mission is to seek constantly to improve our passengers' travel experience and, today, we are taking the next step with the launch of our new website. Reflecting the innovation that WIZZ has delivered since its first flight, we are listening to our passengers and making booking flights even easier – the new Express Booking function is revolutionary and allows bookings at WIZZ's low fares to be made in just three clicks within 30 seconds. We will continue to develop our route network to Europe and beyond and look forward to welcoming returning and new customers on board to experience Wizz Air's great service delivered by our fantastic crew."
Zoran Krstevski, TAV Macedonia General Manager, said: ,,Landing on the new Airbus A321 of WizzAir airline and celebration of their 12th anniversary is a good opportunity to confirm the good cooperation between us as airport operator and WizzAir as an airline. WizzAir began flights to Skopje Skopje International Airport in June 2011, with the first flight to London (Luton). Today we can say that WizzAir flies to 24 destinations connecting Macedonia with 11 European countries. The growing network of destinations and increased traffic at both Macedonian airports encourages us to suggest new destinations, and why not the overseas traffic''
Founded in September 2003, the first Wizz Air flight took place from Katowice, Poland on 19 May 2004, launching an ambitious goal of establishing a low-cost airline operating out of Central and Eastern Europe. Having successfully achieved this, the airline continues to innovate to best serve its customers' needs and today announces the launch of the airline's new website as well as new aircraft capacity and routes.
Wizz Air's new website has a responsive layout easily adjustable to any size of display: be it a smartphone, a tablet or a desktop, and it is easier to use than any other current airline website. The revolutionary Express Booking function is a first-of-its-kind feature that allows customers to purchase a ticket in just three clicks within 30 seconds. WIZZ is first rolling out the new website's mobile version, to meet the needs to WIZZ's tech-savvy customers as mobile transactions double year on year. Over the next weeks, the website will be rolled out across all platforms. The website is already live and can be accessed directly via smartphone through wizzair.com or by going to m.wizzair.com from any device.
Since its first flight from Skopje in 2011, Wizz Air has constantly expanded its operations in the region. The airline is currently the largest airline in Macedonia in terms of available capacity, and plans to further increase capacity in 2016 by 22 percent. WIZZ employs 115 pilots and cabin crew and operates three aircraft from its Skopje base. To date the airline has carried 2.2m passengers on its 24 routes to 11 countries from two Macedonian airports: Skopje and Ohrid.
TAV Macedonia finished 2015 with a 22% increase in the total number of passengers at two Macedonian airports - Alexander the Great in Skopje and St. Paul the Apostle in Ohrid, reaching 1,560,381 passengers.
The trend of increased traffic continues this year. In the first four months of 2016 through both Macedonian airports transported were 486,968 passengers, which is increase of 28% compared to the same period in 2015. At the same time, number of operations (landings and take-offs) at both airports increased by 15%.
Useful Information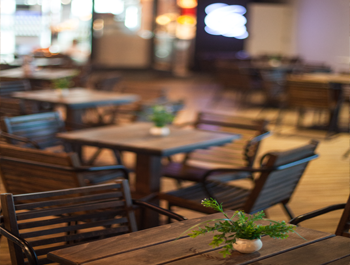 Shopping & Dining
See the full range of shops in our shopping universe. At the airport you'll find a great selection of shops within fashion, electronics, design and souvenirs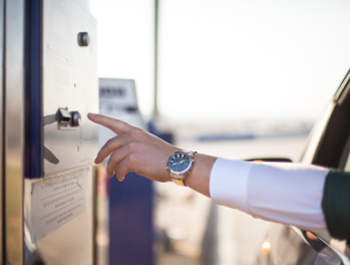 Parking
Your way to a secure parking space! Benefit from the attractive online parking offers of Skopje International Airport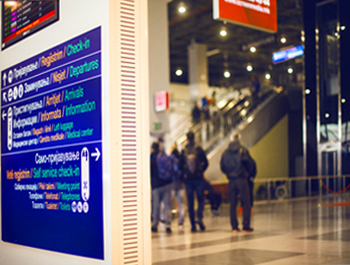 Flight Information
Real-time information of arrival and departure flights at Skopje International Airport
Frequently Asked Questions
There is regular shuttle bus to/from Skopje International Airport for passengers that drives and stops at key bus stops throughout the City of Skopje and arrives at the airport. V2V Transporter manages and operates the shuttle buses for passengers. The shuttle bus timetable is prepared according to the arrivals/departures of flights at Skopje International Airport. One way ticket for the shuttle bus costs MKD 199. You can find more information in Passenger guide section on our the webpage, or click Bus.
Skopje International Airport operates 24/7. Restaurants and cafes such as Cakes & Bakes, Café In, Burger King and NeedStop are available for the passengers at any time; business lounge (PrimeClass CIP Service) offers you comfort 24/7, while ATU Duty Free is opened as per the flights timetable and offers wide range of products.
Check-in at the passenger and baggage check-in counters starts 180 minutes (3 hours) before the scheduled time of departure (STD) specified on your flight ticket. The closing time of the airport check-in counter is no later than 60 minutes before STD stated on your flight ticket.
Since the beginning of COVID–19 pandemic, due to the requirements for different travel documents imposed by different countries, TAV Macedonia appeals to passengers to arrive at the airport 3 hours before take-off.
For information about your flight, please follow Skopje International Airport website, in the Arrivals and Departures section, where all changes to the flights schedule are updated in real time, i.e., as we receive information by airlines.
If you need urgent additional information about your flight, you can call Skopje International Airport Information Desk on the phone number: +38923148333, it is open 24/7.
Passengers are allowed to carry on board free of charge items such as coat, 1 umbrella or walking stick, 1 ladies handbag, 1 camera or binoculars, 1 baby transporter, 1 pair of crutches or similar prosthetic aids, medical equipment on which the passenger is fully dependent, a reasonable quantity of baby food.
Regarding the baggage fees amount, please contact your airline, because each airline has its own baggage policy and applicable rules.
If you have any specific question about what you can or cannot carry, i.e. allowed/prohibited items, in your baggage, please send your question to our Customer Relations Department at customer.mk@tav.aero.
In case of lost or damaged baggage, please immediately go to the Lost & Found Department, which is located near the baggage claim area, i.e. in the Arrivals Area after Passport Control and before Customs Control.
Our employees from L&F will prepare a lost/damaged baggage report for you, that you'll later on send it to your airline. If you need to contact the Lost&Found department, please write us on: lostbaggage@tav.aero
For lost or found items on the plane, please contact us at the same email: lostbaggage@tav.aero
If you lose or find a personal item in the airport building, please report it immediately either to the Information Desk or to the Security staff, while if you have already left the airport, please write to us at lost.property@tav.aero
All details at:
http://skp.airports.com.mk/.../airport.../page/lost-luggage
Yes. Since 2015 TAV Macedonia has introduced free Wi-Fi internet at Skopje International Airport, which was upgraded in 2019. Passengers can access free internet through their mobile devices by simply connecting to a wireless network called TAV Airports, password is not required.
You can park your vehicle in our parking lot without prior reservation. This service is available 24/7 at Skopje International Airport.
Car Park Pricelist:
1h – MKD 100
2h – MKD 150
3h – MKD 200
4h – MKD 250
4-8h – MKD 500
8-24h – MKD 850
3-7 days – MKD 2500
8-14 days – MKD 3500
15-30 days – MKD 5000
For more information on parking services, please click on Parking.
Yes. At Skopje International Airport there are specially designated, marked parking lots for persons with disabilities and the car park services are free of charge within 24 hours. By enclosing the traffic license and the disability identification card at the Car Park Payment Counter, located inside the terminal building, our employees will cancel the car park ticket and the person with disability will be automatically exempt from paying for the car park service. If all designated parking lots for persons with disabilities are occupied, park your car on a regular parking lot, and following the above stated procedure you will be exempted from paying for the car park services.
For more information on parking services, please click on Parking or visit Passengers with disabilities.
Yes. At Skopje International Airport there is a Special Assistance Service for passengers with reduced mobility (PRMs). The counter where you can ask for this free of charge service is located inside the Terminal building, next to the Information Desk. Passenger with Reduced Mobility (PRM) means any person whose mobility is reduced due to physical incapacity (sensor or locomotor), intellectual deficiency, age, illness, or other cause of disability.
Yes. There is a smoking room at Skopje International Airport, which is located in the security-restricted area, airside. The smoking room is located next to Gate number 201, i.e., on the left side after you pass passport control and security screening.
In addition to the smoking room, passengers can use the open terraces of the cafeterias located at the entrance to the terminal building of the airport.
Smoking is prohibited in all other areas of the terminal building.
For general question or inquiry that does not require immediate response, or if you have any other complaint or compliment, please send an e-mail to customer.mk@tav.aero. This is our Customer Relations Department, which will respond to your inquiry accordingly as soon as possible..